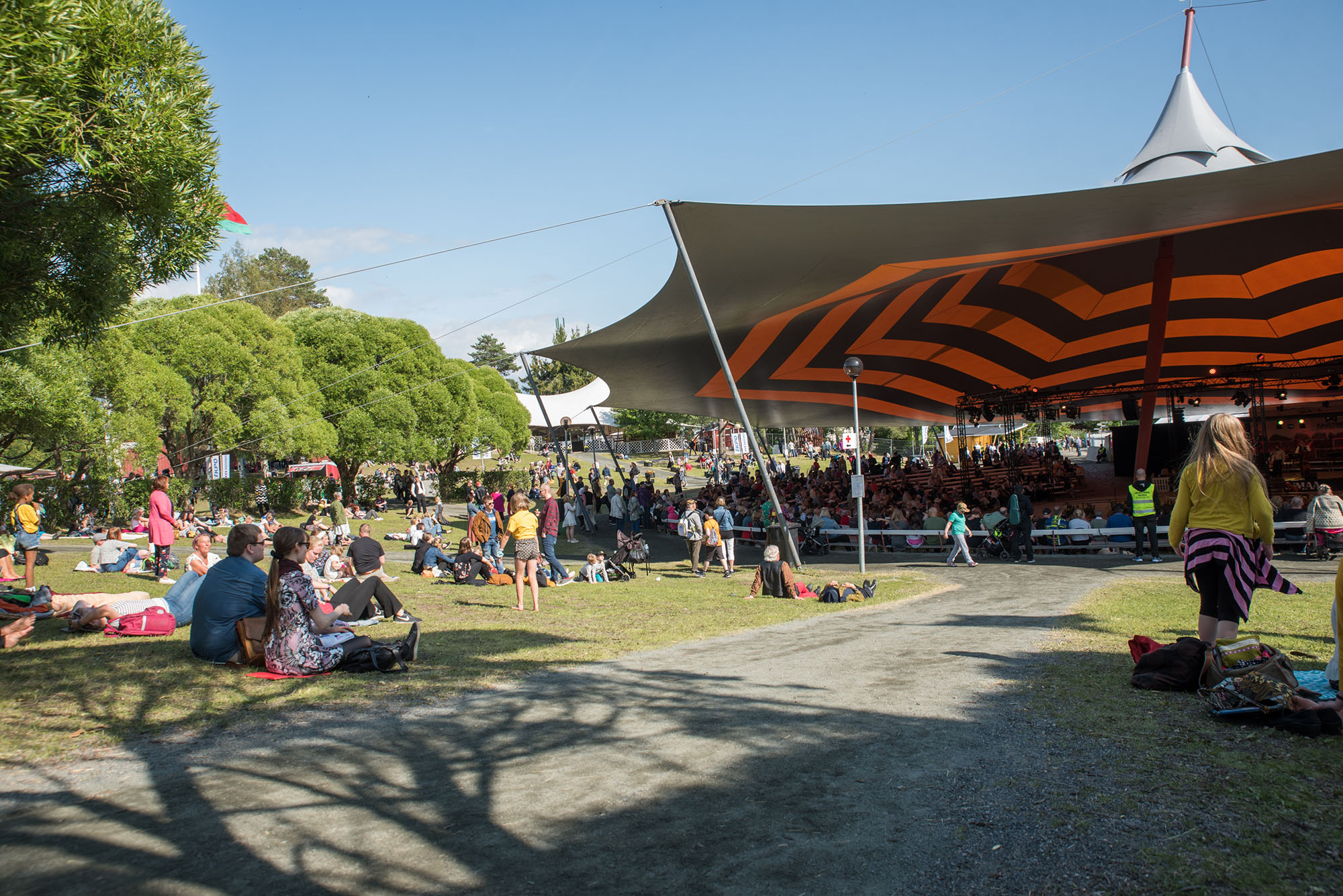 Great Festival in a Small Village
Welcome to the Kaustinen Folk Music Festival again on 11th - 17th July 2022
The Kaustinen Folk Music Festival has been one of the most important folk music events in the Nordic countries and throughout Europe for more than five decades. Our visitors return to this family-friendly festival year after year - the atmosphere in Kaustinen is unforgettable.
In July, Kaustinen, a Central Ostrobothnian village with 4,300 inhabitants, invites tens of thousands of guests year after year to enjoy the happiest days of the summer. From the very beginning, the festival has been built on the basis of a strong, unbroken Kaustinen fiddling tradition, and the fiddling spirit of four centuries still lives in the strong and dynamic Kaustinen region. There's plenty of time for jamming around the clock and the numerous facilities of the festival and Kaustinen area provide a good setting for a longer or shorter visit. Everyone enjoys Kaustinen!
On this page you will find info about the festival. If questions arise, please contact info@kaustinen.net
Performer Info
Your content goes here. Edit or remove this text inline or in the module Content settings. You can also style every aspect of this content in the module Design settings and even apply custom CSS to this text in the module Advanced settings.
Getting Here and Parking
Kaustinen is situated at the intersection of highways 13 and 63.The nearest railway station is located in Kokkola (45 km from Kaustinen.)The nearest airport is located in Kruunupyy (Kokkola-Pietarsaari airport), about a 30 min drive from Kaustinen. Bus services can be found on Matkahuolto's website.
There are many free parking spaces near the festival area for the festival visitors. Signs guide you to the parking spaces. Camping in parking areas is prohibited. 
Kaustinen for kids
Children's tent and program has been an important part of the festival for over twenty years. Tradilinnut folk music group makes sure that music is playing and the tent is filled with good energy throughout the week. Children younger than 7 visit the festival for free, 7-15-year-olds 9€ per day.
Kaustinen Folk Music Festival is known as a very family friendly event because of the broad program and activity that we offer for children. It is safe in the enclosed festival area, the playground is open and all services that families might need are close. The most fun part about Kaustinen is to be a part of a great festival! In the children's activity tent there is something to do every day, e.g. crafting and drawing. Children's program extends to other venues as well.
Ravintolapalvelut ja kaffilat
Come and eat!
Festival restaurant Avoinna klo 8–20. Törkiän hyvää kotiruokaa noutopöydästä klo 11–20. Runsas aamiainen tarjolla ti-su klo 8–10. 
Tavern Kallio High up on the hills there is a reservable restaurant that also works as a music pub from Tuesday at 18. Group reservations and inquiries: myynti@kaustinen.net, puh. 040 163 4398.
Mondo Open at 9–03.30 next to Keskipohjanmaa Arena. Music, bar and good mood. K-18 after 21:00. Separate space for under-aged audience.
Troka Open at 13–03.30. Restaurant tent next to Pelimanni House. Music, drinks, jams and dances. K-18 after 21:00.
Pelimanni House's Cafe Open at 10–02.30. Old log house, music and coffee, cheese roast from Kaustinen sold Tue-Sat. K-18 after 22:00.
Marjaananville's Cafe Open at 10–22. Festival Yard's traditional cafe, where you can enjoy the program of Krenikka-stage. Coffee, tea, something salty or sweet to eat.
Club Kallio Open Tue-Sat according to program.  Legendary club at the hills. Good music and cold drinks. Separate area for under-aged audience.
Wine Tavern Open at 15–01. Music and great mood. K-18 after 21:00.
Konserttiina Cafe Open at 10–22. Cozy cafe at the Folk Arts Center. Coffee, drinks and home-made sweet and salty pastries.
Festival Arena's Food Alley Festivaalipuistosta löytyy kaksi ruokakujaa, joista löydät monenlaista syötävää pikkutunneille saakka.
Feast Inn and its Food Alley Avoinna klo 10–03.30 Musiikkia, tanssia ja herkullista ruokaa festivaalialueen teltassa Pelimannitorin portin kupeessa.
Living heritage and Kaustinen
Kaustinen fiddle-palying tradition was listed on Unesco Representative List of the Intangible Cultural Heritage of Humanity in December 2021. The recognition is important for the area's heritage and it also increases the whole folk music and dance field's respect and sicnificance in Finland and worldwide.
Kaustinen Folk Music Festival is naturally the best place to get to know the living heritage in forms of music, dance and storytelling. The whole village is playing and dance performances can be watched at many of our venues.
Make sure not to miss Kaustinen Hour every day at 10 in Soittosali, living heritage at 11 at Festival Yeard and every night in Soittosali, Memories of Kaustinen every day at 13 in Pelimanni House (Thursday exeptionally at 12) and Unesco-concert Thursday at 17:30 at Keskipohjanmaa Arena.
In addition to Kaustinen heritage you will be able to experience different cultural heritage phenomena from around Finland and the world, for example Finnish jouhikko and kantele traditions, Scottish traditional music, traditional poetry, Mauritian Sega and Sami music.
Along with music and dance we want to bring out living heritage from other forms of art and life. In this year's program e.g. handicraft and instrument building are represented. In cooperation with Taitoliitto, we introduce practitioners of different traditions with specialists and consider in practice why and how traditions are being protected. In seminars we ponder how to pass traditions onto next generations.
Living Heritage Centre at Juhlapiha offers collected activity related to living heritage. Experts and tradition practitioners are present there from Tuesday to Saturday at 11-18. The centre presents e.g. the Nordic clinker boat tradition that was recognized by Unesco last year, willow flute building, Finnish rug workshop and much more.
Turvallisempi Kaustinen
Turvallisuus ja yhdenvertaisuus
Kaustinen Folk Music Festival sitoutuu edistämään tasa-arvoa ja yhdenvertaisuutta festivaalilla. Toivotamme jokaisen pelimannin ja festivaalivieraan tervetulleeksi omana itsenään. Edellytämme, että festivaalilla jokainen osallistuu osaltaan turvallisemman tilan luomiseen kunnioittamalla toisia, käyttäytymällä asiallisesti ja ottamalla muut huomioon. Emme hyväksy minkäänlaista syrjintää tai häirintää esimerkiksi sukupuolen, tiettyyn etniseen ryhmään kuulumisen, ihonvärin tai seksuaalisen suuntautumisen vuoksi, emmekä fyysistä, verbaalista tai seksuaalista ahdistelua.  
Jos näet tai koet itseesi, ystävääsi tai muuhun festivaalivieraaseen tai työntekijään kohdistuvaa käytöstä, joka tuntuu ahdistavalta tai epäsopivalta, tai ei jollain tavalla tue tasa-arvoisuutta ja yhdenvertaisuutta, ilmoitathan siitä festivaalin järjestyksenvalvojille tai muulle henkilökunnalle. Festivaalin henkilökuntaa ja järjestyksenvalvojia on ohjeistettu kiinnittämään huomiota turvallisuuteen ja yhdenvertaisuuteen.  
Häirintäyhdyshenkilönä toimii festivaalin aikana Aino Kallio: 
aino.kallio@kaustinen.net, puh. 045 8069757 
YK:n turvallisemman tilan periaatteet:
Kunnioita

toisen henkilökohtaista fyysistä ja psyykkistä tilaa. Kunnioita itsemääräämisoikeutta. Älä koske toista kysymättä lupaa. Muista, ettet voi tietää toisen rajoja kysymättä niitä. Pyydä tilaa myös itsellesi tarvittaessa.

 

Älä pilkkaa

, ivaa, halvenna, sysää syrjään tai nolaa ketään puheillasi, käytökselläsi tai teoillasi. Pitäydy ulkonäön arvostelusta, juoruilusta ja stereotypioiden ylläpitämisestä.

 

Älä tee oletuksia

ulkonäköön tai toimintaan perustuen. Älä tee oletuksia kenenkään seksuaalisuudesta, sukupuolesta, kansallisuudesta, etnisyydestä, uskonnosta, arvoista, sosioekonomisesta taustasta, terveydestä tai toimintakyvystä

 

Anna tilaa

. Pyri huolehtimaan siitä, että kaikilla on mahdollisuus osallistua keskusteluun. Älä jyrää muiden mielipiteitä ja anna puheenvuoro. Kunnioita myös toisten yksityisyyttä ja käsittele arkoja aiheita kunnioittavasti.

 

Kuuntele ja opi.

Ota vastaan uudet aiheet, henkilöt ja näkökulmat ennakkoluulottomasti. Suhtaudu jokaiseen vastaantulevaan asiaan ja tilanteeseen mahdollisuutena oppia uutta ja kehittyä.

 
Pyydä anteeksi,

jos olet loukannut tahallisesti tai tahattomasti muita.

 
Jos huomaat jonkun käyttäytyvän asiattomasti tai muutoin rikkovan Turvallisemman tilan toimintaperiaatteita, puutu tilanteeseen. 
Let's make the Kaustinen Folk Music Festival the happiest days of the summer! 
Festival area map