Everyone can participate in the festival!
At the Kaustinen Festival music or dance is not only a performative act but it underlines participatory approach by offering the audience opportunities in joining the music-making and dancing.
- Master folk singer Jussi Asu
The 56th Kaustinen Folk Music Festival will be held from 10th to 16th of July 2023.
The Kaustinen Folk Music Festival serves a hand-picked diverse sample of Finnish Folk Music and Folk Dance, as well as an annual program presenting international ensembles and traditions.
The artists at the festival vary from traditional Finnish solo performers to contemporary folk bands and international acts. The programme includes folkdance, some Finnish popular artists, children´s music, multi-artistic performances besed on folklore and participatory acts. The festival plays a crucial role in the preservation and promotion of various fields of heritage from different regions of Finland and all over the world. The Festival has a unique family-friendly and cozy atmosphere, which is worth experiencing.
Festival theme for 2023 in Peace, which is brought out e.g. through global goodwill and understanding between people and by considering the importance of individual peace of mind in the midst of busy life. The Province theme is Middle-Finland and also theme called Treasures of the Archives named by the Finnish top assosiation for Folkmusic and Folkdance.
Performers are encouraged to take the themes under consideration if possible, of desinsngprogramming for next summer's celebrations.
Performer Info
Your content goes here. Edit or remove this text inline or in the module Content settings. You can also style every aspect of this content in the module Design settings and even apply custom CSS to this text in the module Advanced settings.
Performers
Warmly welcome to the 56th Kaustinen Folk Music Festival 10.16.7.2023!
Folkmusicians, players, dancers and singers are the heart of Kaustinen Folk Music Festival.
A performer reception and accommondation office will be lokated at the College of Music (Meerbushintie 1) during the festival.
Aukioloajat:
Su 9.7. klo 12-18
Ma 10.- La 15.7. klo 9-21
Su 16.7. klo 9-15 (majoitustoimisto)
Guestions will be answered from the festival office!
pelimannit@kaustinen.net
tel. +358 40 3582 198
The call for performers for the 2024 festival will be announced on our website and on our social media channels @kaustinenfmf..
Accommodation for musicians
Accommodation for musicians - booking has been opened!
Accommodation can be booked primarily for the nights in-between performances, so that everyone has the chance for accommodation.
Booking for musician's accommodation is done via an online form. Price is 25 euros per night.
Booking can be done with this link: Pelimannimajoitus 2023 -varauslomake.
More information on musician accommodation and prices can also be found on our website at Kaustinen.net/pelimannimajoitus-2023
Accommodation for musicians is shared in classrooms and sports halls. Accommodation is on floor beds with a mattress, blanket and pillow, but you should bring your own bed linen. The accommodation is mainly divided into separate rooms for men and women, but some rooms are also mixed. For reasons of mobility or other compelling reasons, we can also accommodate single persons in beds. However, if you need a bed, please let us know in advance.
Accommodation places
The aim is to provide shared accommodation at Kaustinen Urheilutalo, Alakoulu, Puumala School, Järvelkä Village School and Veteli Sports Centre. Some of the accommodation is not located in the immediate vicinity of the festival area, but it is easy to get between these places of accommodation and the festival area by the festival bus, the free use of which is included in the price of the pelimanni accommodation.
Work is still underway to identify accommodation places. For this reason, we are not yet accepting reservations for accommodation. We will announce the start of the accommodation booking process on this page and via a letter to accepted musicians/dancers.
Jaettuna parempi!
Jaettuna parempi! -konseptin keskeinen ajatus on mahdollistaa kansantanssiryhmille esiintymiskokemus elävän musiikin kanssa sekä sytyttää ja vahvistaa kipinää tanssisoittoa kohtaan.
Tänä kesänä Jaettuna parempi! -ryhmiä ovat Kansantanssiryhmä Tikki Satakunnastaja Kansantanssiryhmä Frilla Raumalta sekä musiikista vastaa tuttuun tapaan Kokkola Folk.
Näiden ryhmien yhteisesitykset nähdään keskiviikkona ja torstaina.
Tutustu festivaalin koko ohjelmaan Kaustinen.net/aikataulu-2023
Master Folk Musicians
The Master Folk Musician, the Master Folk Singer and the Master Folk Dancer (Mestaripelimanni) is a title awarded by the Kaustinen Folk Music Festival to a person who, with his or her traditional skills, abundant repertoire or other significant merits, has promoted folk music or folk dance and promote their pursuit. The Masters have been named since 1970.
Esityksiä mestaripelimanneiksi, mestarikansantanssijoiksi ja mestarikansanlaulajiksi otetaan vastaan ympäri vuoden. Esitykset voi lähettää osoitteeseen matti.hakamaki@kaustinen.fi tai soittaa numeroon 040 574 1917.
Alta löytyy aikaisempina vuosina nimetyille mestaripelimanneille tarkoitettu ilmoittautumislomake kesän juhlia varten. Pyydämme teitä ystävällisesti täyttämään ilmoittautumislomakkeen 31.3.2023 mennessä.
Mestaripelimanni registration form
Apua lomakkeen täyttämiseen saa p. 040 358 21 98.
Artists
The festival program is complemented by concerts completed by folk music and folk dance professionals. All festival guests and enthusiasts will be able to participate in a workshops of many professionals throughout the festival week.
Performers applying for an artist gets paid for their performance. The free-form application can be submitted either by e-mail directly to the Program Director firstname.lastname@kaustinen.net or to artists@kaustinen.net. Offers should be sent during August to December.
NOTE! We get so many artist offers that unfortunately not all posts can be answered. However, all applications will be reviewed, and each potential band or group will be contacted in person. Inriquiries can be made either by email or by phone directly from the Program Director.
Information on venues
The link will take you to Lavat -sivulleFor each stageyou can find technical information and what other equipment is available on the stage.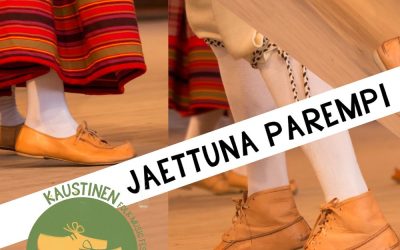 Viime vuonna ensimmäistä kertaa toteutettu Jaettuna parempi -konsepti saa jatkoa ja kansantanssiryhmien haku on käynnissä. Jaettuna parempi! -konseptin keskeinen ajatus on mahdollistaa kansantanssiryhmille esiintymiskokemus elävän musiikin kanssa sekä sytyttää ja...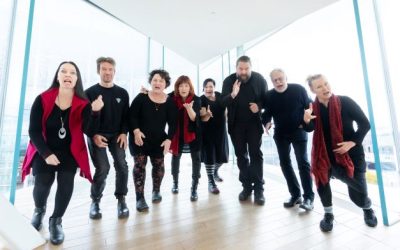 Ääniteatteri Iki-Turso heittää ilmaan kysymyksen, onko runolaulu Itämeren alueen räppiä. Tohtorit ja maisterit Eila Hartikainen (vas.), Juha Valkeapää, Maari Kallberg, Anna-Kaisa Liedes, Ilona Korhonen, Taito Hoffrén, Heikki Laitinen ja Outi...