Everyone can participate in the festival!
At the Kaustinen Festival music or dance is not only a performative act but it underlines participatory approach by offering the audience opportunities in joining the music-making and dancing.
– Mestarikansanlaulaja Jussi Asu
The 55th Kaustinen Folk Music Festival will be held from 11 to 17 July 2022.
The Kaustinen Folk Music Festival serves a hand-picked diverse sample of Finnish Folk Music and Folk Dance, as well as an annual program presenting international ensembles and traditions.
The artists at the festival vary from traditional Finnish solo performers to contemporary folk bands and international acts. The festival plays a crucial role in the preservation and promotion of various fields of heritage from different regions of Finland and all over the world. The Festival has a unique family-friendly and cozy atmosphere, which is worth experiencing.
The year theme of the festival 2022 is Mukana! (On board!) and the provincial theme is Carelia. The Annual For 2022, theme of the Promotion Centre for Finnish Folk Music and Folk Dance (KEK) is the Minuet.
Performer Info
Your content goes here. Edit or remove this text inline or in the module Content settings. You can also style every aspect of this content in the module Design settings and even apply custom CSS to this text in the module Advanced settings.
Performers
Warmly welcome to register for the 55th Kaustinen Folk Music Festival as a performer!
Performer registeration is open until 31 January.
Apply by filling out the form below:

This registration form is meant for pelimanni performers, who want to perform and enjoy the festival atmosphere at Kaustinen without financial compensation.
Good to know about registration:
If you are performing folk music, folk dance or more modern production based on them and want to get involved in creating a unique atmosphere of a family-friendly festival and present your music to a dedicated festival audience, do not hesitate to apply
Questions will be answered from the festival office!
tel. +358 40 3582 198
Performers and groups approved as an official performer will receive:
Performer wristband which entitles entrance to the festival area and all events on all festival days.
Free music and dance workshops, seminars and a guaranteed relaxed atmosphere with thousands of friends.
Performer accommodation (in shared dormitory accommodation) for an affordable price. (More information on accommodation coming in the spring.)
Performer meal for discount price at the Festival restaurant.
Free instrument storage.
Performer coffee for a discount price at the Festival restaurant and Marjaananville´s café.
Discounts at Kaustinen S-Market with the pelimanni wristband (does not include tobacco or alcohol products).
The supplement application will be arranged during the spring as required.
Acceptance as an official performer
The contact persons will be informed of the choices during March.
If an audio / video sample link is not attached to the application, provide a link upon request.
-
Festival themes
The year theme of the festival 2022 is Mukana! (On board!) The purpose of the theme is emphasize the importance of doing things together and communality, and to invite everyone interested in folk tradition and culture to celebrate the happiest days of the summer. The provincial theme is Carelia and the Annual Theme of the Folk Music and Folk Dance Promotion Center is the Minuet.
Performers are encouraged to take the themes under consideration if possible, of desinsngprogramming for next summer's celebrations.
Mestaripelimannit
The Master Folk Musician, the Master Folk Singer and the Master Folk Dancer (Mestaripelimanni) is a title awarded by the Kaustinen Folk Music Festival to a person who, with his or her traditional skills, abundant repertoire or other significant merits, has promoted folk music or folk dance and promote their pursuit. The Masters have been named since 1970.
. . .
Mestaripelimanneille tarkoitettu ilmoittautumislomake kesän festivaaleille löytyy alta olevasta linkistä.
Mestaripelimannien ilmoittautumislomake
Apua lomakkeen täyttämiseen saa Paula Ketulta 040 358 21 98.
Artists
The festival program is complemented by concerts completed by folk music and folk dance professionals. All festival guests and enthusiasts will be able to participate in a workshops of many professionals throughout the festival week. 
Performers applying for an artist gets paid for their performance. The free-form application can be submitted either by e-mail directly to the Program Director firstname.lastname@kaustinen.net or to artists@kaustinen.net. Offers should be sent during August to December.
NOTE! We get so many artist offers that unfortunately not all posts can be answered. However, all applications will be reviewed, and each potential band or group will be contacted in person. Inriquiries can be made either by email or by phone directly from the Program Director.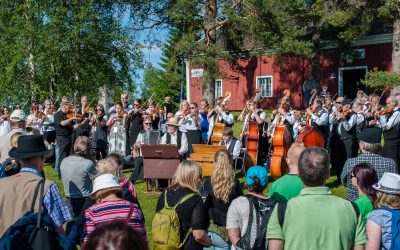 Kaustisen pelimannit festivaalin aloitussoitossa. Unescon aineettoman kulttuuriperinnön komitea nimesi 15.12.2021 kaustislaisen viulunsoiton Unescon ihmiskunnan aineettoman kulttuuriperinnön luetteloon. Kaustislainen viulunsoitto nimettiin Elävän perinnön...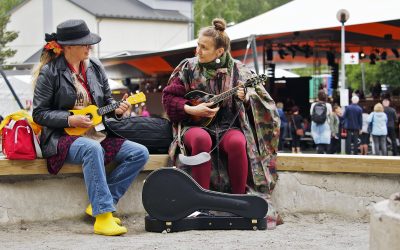 Ensi kesän festivaalin pelimannihaku on avattu ja esiintymishakemuksen voi lähettää aina tammikuun loppuun saakka. Täydennyshaku järjestetään tarpeen mukaan. Kaustisella kaikki ovat pelimanneja ja siispä tervetulleita hakemaan, ovat kaikki kansanmusiikkia,...